Reconnecting spaces of the Natura 2000 Network with living sheeptrails
Relevance of the project actions
THE DIAGNOSIS OF THE STATE OF CONSERVATION OF THE LIVESTOCK WAYS OF THE COMMUNITY OF MADRID CONTINUES
We return to the field to start the 'Tea Bag Index', an experiment that allows us to determine the decomposition activity that takes place in the soils of the livestock routes that are part of the LIFE CAÑADAS.
During the month of October, researchers from the UAM have once again toured the livestock routes of the Community of Madrid to install two types of tea in the different types of parcels (reference, clogged and eroded), according to the methodology of the Tea Bag Index . These two tea bags (green and red), which are buried in the first 8 cm of the soil and collected when 3 months have elapsed since their placement in the field, allow to evaluate the decomposition rate of plant material that takes place in the soil.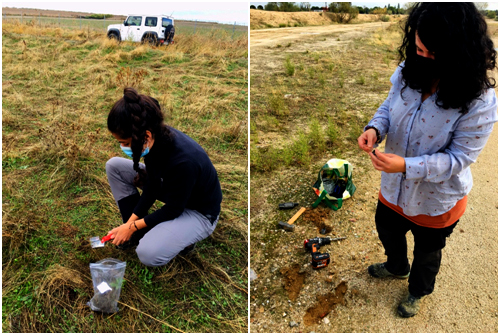 In addition, it has been used to place data loggers or 'hobos' in the same locations, which once buried in the ground record its temperature every 30 minutes, providing more information about the edaphic ecosystem.
Fresh soil samples have also been collected that will later be used to determine the physiological profile of microbial communities, as well as the main enzymatic activity.